Navigation
Physics Bowl
The information on this event is up to date.
Faculty coordinators: Jim Liu, Andy Tomasch
Preparation team: Warren Smith, Monika Wood, Matthew Jackson
Event Description: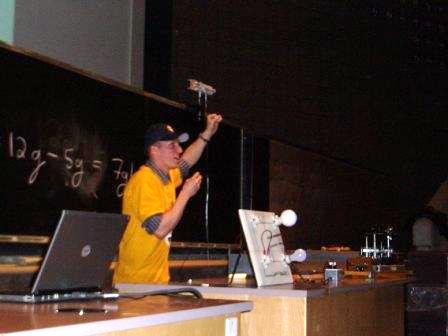 All Olympiad Teams are automatically registered for this event. A series of physics demonstrations will be described by a UM Faculty member. Before each demonstration, a question about the demonstration will be posed for the teams to consider. Each team will then come to a consensus answer and submit it using a "clicker". Answers for each question will then be provided by watching the demonstration happen.
Event Location and Time:
Dennison lecture hall
3:00PM - 4:00PM
Apparatus and Materials:
All demonstrations prepared by the Physics Department. Teams only need brainpower.
Event Rules:
All members of an Olympiad team must participate.
Teams will have two minutes to discuss the answer to each question.
Judging Criteria:
Each correct answer will be awarded points. The number of points awarded for a question may vary dependent on the perceived difficulty.
In the event of a tie an additional question will be posed, and the tie broken by the team with the clearest explanation of the correct answer, as judged by the event coordinator.
Gold, Silver, and Bronze medals will be awarded to the teams with highest scores.
Olympiad Contact Information
University of Michigan, Physics Department, Randall Laboratory
Prof. Georg Raithel, email: graithel@umich.edu


The University of Michigan. All rights reserved.
THE UNIVERSITY OF MICHIGAN PHYSICS OLYMPIAD is a Service Mark registered in the State of Michigan.
The University of Michigan Physics Olympiad has no connection, association, or implied authorization by the USOC, the IOC, or the IPC.
Revised: April 2015.